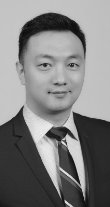 ERIC X. LANG, PH.D.
Forensic Economist
Dr. Eric Lang is a Forensic Economist with a particular emphasis on analysis in personal injury, wrongful death, employment, and commercial litigation cases.
Dr. Lang holds a Ph.D. in Economics from Washington State University and a M.A. in Economics from New York University. During his studies he was awarded the President Honor Roll and Graduate Research Assistantship. His research interests are in the areas of forensic economics, energy economics, transportation economics, and criminal justice economics. His research is published in Research in Transportation Economics and the Journal of Drug Issues.
As an Adjunct Professor of Economics with Tarrant County College and Dallas County College, Dr. Lang teaches microeconomics, macroeconomics, financial economics, international trade, and finance classes. He has presented his research at various conferences, including the Annual Conference of the Western Economic Association International, the Regional Transportation Conference, the Transportation Research Board Annual Meeting and the Academy of Criminal Justice Sciences Annual Meeting.
Contact Thomas Roney LLC for a complete list of Testimonies
CONTACT US TODAY!
How can we help?

For economic consultation and expert witness deposition or trial testimony as needed, with no geographical limitations,
please call one of our offices for a free initial consultation.