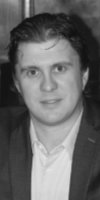 NIKANOR I. VOLKOV, PH.D.
Forensic Economist
As a forensic economist, Dr. Volkov specializes in the calculation of economic damages in personal injury, wrongful death, employment, and commercial litigation cases.
Dr. Volkov is an Assistant Professor of Finance at Mercer University, where he teaches classes in corporate finance, financial analytics, international finance, mergers and acquisitions at the undergraduate and graduate levels. His research interests are in the area of forensic economics, information disclosure, investments, investor behavior, corporate diversification, and mergers and acquisitions. His research is published in the Journal of Corporate Finance, Quarterly Review of Economics and Finance, Global Finance Journal. He currently has papers under revision at the Journal of Forensic Economics and the Financial Review. Dr. Volkov's work has been presented at a number of academic conferences, such as Financial Management Association International, Southern Finance Association, Eastern Finance Association, among others. He is an author of an encyclopedia chapter on mutual funds and is a frequent speaker at special seminars on the topic of valuation. He is a member of the National Association of Forensic Economics, Allied Social Sciences Association, Financial Management Associations, Southern and Eastern Finance Associations.
Prior to a career in academia, Dr. Volkov owned a financial service firm, which focused on investing in longevity-related assets, and worked as a financial analyst at Franklin Templeton Investments.
Dr. Volkov received his Ph.D. in Finance from Florida Atlantic University.
Contact Thomas Roney LLC for a complete list of Testimonies
CONTACT US TODAY!
How can we help?

For economic consultation and expert witness deposition or trial testimony as needed, with no geographical limitations,
please call one of our offices for a free initial consultation.