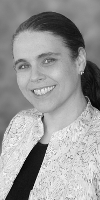 REBECCA NEWMAN, CPA
FORENSIC ACCOUNTANT
With more than 16 years of experience in forensic accounting, Ms. Newman specializes in loss calculation for personal injury and business interruption, fraud analysis, and financial elder abuse investigation. She has testified in both civil and criminal proceedings, and has provided expert opinions in five states.
Ms. Newman began her career at Oregon's first CPA firm specializing entirely in forensic accounting. Over the years, she has evaluated hundreds of litigation cases and insurance claims, including personal injury, wrongful death, business interruption, and patent infringement. She has analyzed more than forty cases of suspected fraud, employee embezzlement, and financial elder abuse. Her clients have included civil plaintiff and defense attorneys, insurance companies, and criminal prosecution and defense.
In addition to her training and substantial experience in accounting, Ms. Newman's background in communications allows her to effectively connect with clients, juries, and arbitrators, both in person and through her reports. She believes that clear, direct language is more understandable to the triers of fact — and ultimately more convincing.
Ms. Newman earned her Bachelor's and Master's degrees from Portland State University in Portland, Oregon, and a postgraduate certificate from Linfield College. She is a member of several professional organizations, including the American Institute of CPAs, the Association of Certified Fraud Examiners, and the Collegium of Pecuniary Damages Experts.
Contact Thomas Roney LLC for a complete list of Testimonies