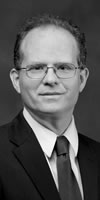 News & Pubs
Scott Gilbert, PhD has joined the firm as a Forensic Economist and expert in anti-trust. He is currently director of undergraduate studies and associate professor of economics at Southern Illinois University Carbondale. He teaches courses in economic and business statistics, econometrics, macroeconomics, microeconomics, financial economics, and monetary economics. He is a research economist and statistician whose research has been published in excellent academic journals, including the Journal of the American Statistical Association, the Journal of Multivariate Analysis, the Journal of Futures Markets, and Economics Letters. He received his Ph.D. in economics from the University of California San Diego, and his Bachelor's degree in economics from the University of California Berkeley. He has authored two books: Business Liability and Economic Damages, and Multi-Market Antitrust Economics. He provides expert witness and litigation support services in the areas of personal injury, wrongful death, wrongful termination, lost profits, business interruption, and competition.
Mr. Roney and Shawn A. Johnson published an article in the Houston Business and Tax Law Journal, Vol. XVII (2016), "Make Whole: The Need for Gross-Ups in Employment Discrimination Cases." The article addresses the importance of adjusting awards for wrongful termination and other employment matters for the federal, state and Social Security taxes that will be paid in the year the award is received.
Thomas Roney and Timothy Lanning wrote Chapter 11: Issues in Employment Litigation Analysis of the book, Forensic Economics: Assessing Personal Damages in Civil Litigation, published in 2016. The chapter provides an overview of the many challenges facing the economist in employment cases and provides a framework for calculating economic damages.
Thomas Roney presented papers at the Western Economic Association International conference and the Southern Economics Association meeting.